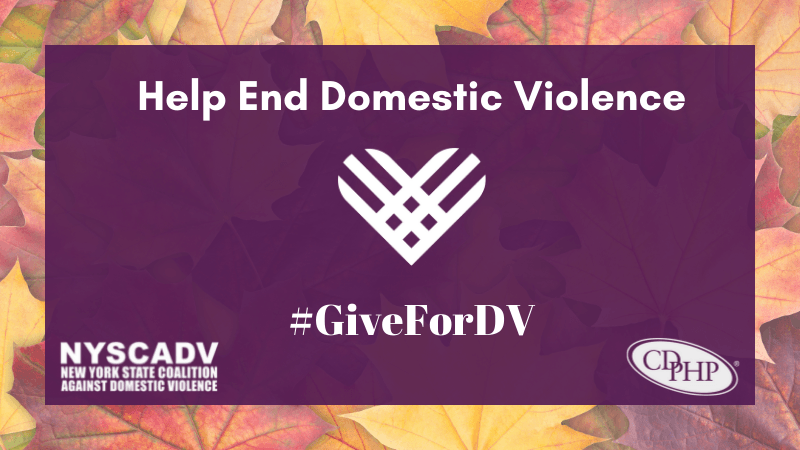 This year, we are joining domestic violence programs across the country for #GiveForDV, a campaign that calls on individuals to step up and give back to support survivors of domestic and sexual violence, and the programs that help them find safety. #Every1KnowSome1 who has suffered abuse; 1 in 4 women and 1 in 7 men experience severe physical violence in their lifetimes, but abuse is so much more than physical - it's psychological, emotional, verbal and financial, too. Help us build a safer New York by participating in #GiveForDV.
We are thrilled that NYSCADV sponsor and supporter, CDPHP, is partnering with us on our #GiveforDV initiative in New York this year. We extend our thanks to CDPHP and look forward to encouraging New Yorkers to #GiveForDV this November and December!
Here are some ways you can support the #GiveForDV campaign in New York:
Participate in #GivingTuesday. Giving Tuesday is a global day of giving, and it's a great opportunity to make a difference. We hope you will join NYSCADV on November 30 for this annual day of community, connection, and giving back. Join us on #GivingTuesday by making a gift to support our work to end and prevent domestic violence. If you'd rather not wait until November 30, you can also make your gift early!
 
Spread the word! Follow NYSCADV on our social media platforms. Encourage your friends and family to join you in making a real impact on November 30. Everyone knows someone victimized by domestic violence. Share what our mission means to you and why you support NYSCADV. We will also be posting #ThankfulThursday posts throughout November to express our gratitude for our amazing network of advocates, volunteers, sponsors and supporters. Follow along and participate in our #ThankfulThursday messages!
 
Join our Facebook Fundraising Challenge! Set up your own Facebook fundraiser supporting NYSCADV. Any fundraiser that raises $100 by December 31 will be entered into a raffle to win a $50 gift card!
How to Set Up a Facebook Fundraiser and Earn a Chance to Win a $50 Gift Card:
We invite all of our supporters to join us on #GivingTuesday, and anytime throughout November and December to set up your own fundraiser to benefit NYSCADV. It's easy and only takes a few moments to set up!
Step 1: On the left sidebar of your Facebook homepage, click on "fundraisers."
Step 2: Click on "select nonprofit" and type "New York State Coalition Against Domestic Violence" then select as your charity.
Step 3: Personalize your story as you wish and add a fundraising goal.
All fundraisers that raise at least $100 by December 31 will be automatically entered into a raffle for a chance to win a $50 gift card!   
The winner will be selected at random and announced on Facebook on January 3.