Virtual Pumpkin Decorating Contest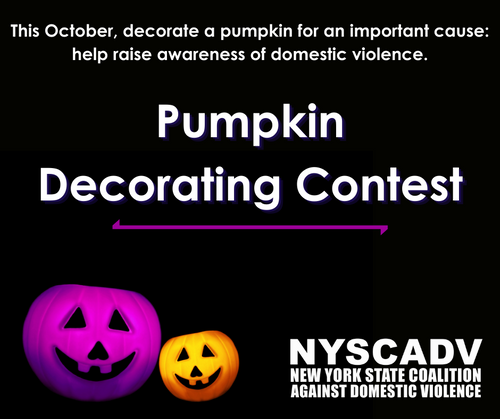 October is Domestic Violence Awareness Month! Help the New York State Coalition Against Domestic Violence (NYSCADV) raise awareness and have fun while doing it. Participants of all ages are invited to participate in NYSCADV's first-ever Virtual Pumpkin Decorating Contest! 
The contest will be held virtually due to COVID-19 health concerns. Even during these challenging times, we can come together to raise awareness during Domestic Violence Awareness Month.
How to Participate 
This year's virtual pumpkin decorating contest gives you the flexibility to participate wherever and whenever it is most convenient for you. You can decorate your pumpkin any time before voting begins on October 21.  
Start by reviewing the contest details and guidelines
Decorate your pumpkin 
Even if you don't decorate your own pumpkin, you can still

 make a donation to NYSCADV

in support of raising awareness of domestic violence this October 
Get votes! Share with your network through emails and social media (additional resources and tools will be shared with all contestants upon registration)  
Contest Registration  
It's easy to sign up and get involved! Register Today 
All proceeds from this event support NYSCADV's work to prevent and confront all forms of domestic violence. For more information about NYSCADV's work on coalition building, prevention, advocacy, policy development and training/technical assistance, click here.  
Voting & Prizes 
Voting will take place the week of October 21-28, 2020. Invite your family, friends, neighbors, and colleagues to vote for your pumpkin!  
Each pumpkin submission will be entered into the appropriate age category of the participant (ages 0-5, 6-12, 13-18, 19+). 
Prizes will be awarded to the winners! There will be a winner for each of the 4 age categories based on the pumpkin that receives the highest number of votes. 
Additionally, there will be a Purple Pumpkin Award. This award will be given to the pumpkin of any age category that has the most creative purple theme. Purple is the color for domestic violence awareness, so we want to recognize a pumpkin that exemplifies this theme. The winner of this category will be selected by the NYSCADV staff team.  
Thank you for your support!