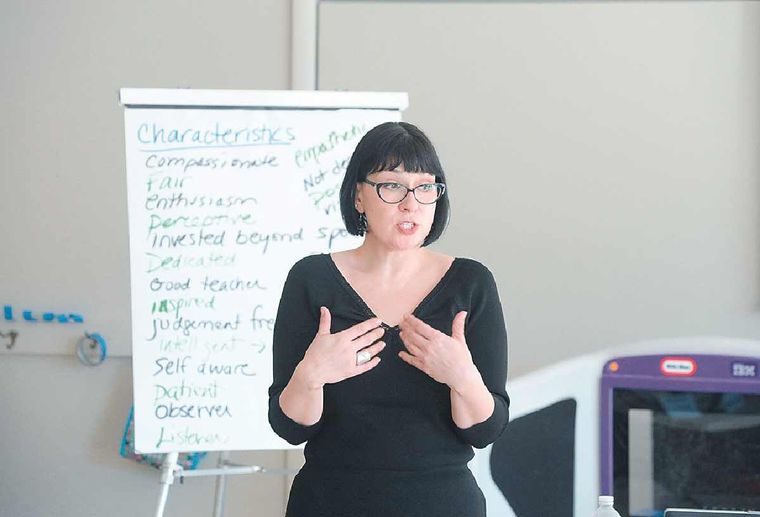 BATAVIA — Some years ago Pam Graham of Alternatives for Battered Women was offering a workshop in a state correctional facility and asked the 200 men to raise a hand if they were there for a domestic violence-related charge.
Two-thirds of them had a hand in the air. All of them signaled that they had grown up in a family with domestic violence. But none of them wanted it to continue.
That is why Graham and Lorien Castelle of the state Coalition Against Domestic Violence were in Batavia: to offer training to coaches, counselors and others who may help to break the cycle.
"We will be doing this together," Graham said Thursday at YWCA. "Do not talk this talk until you're going to walk it."
The workshop covered how to use coaching or mentoring to build healthy relationships and stop the potential for violence before it even starts. It also included ways to reach out to everyone from kids to adults with information about healthy, unhealthy and dangerous relationships.
Patricka Elliott of the Albany County Crime Victim and Sexual Violence Center has already seen similar focus working in her area. Led by the Albany Police Department and other agencies, a "Save Our Sons" initiative has drawn dads, uncles, sons and grandfathers to do affirmative activities together, she said.
"We asked what can we do to engage the youth that's positive," she said. "We filled the community center with a few hundred people. It was definitely a success."
The effort was prompted by a rise in arrests of "younger and younger" kids plus an increase in the truancy rate. The initiative seems to be taking hold.
"We are getting our kids back and getting them engaged," she said. "We do a lot about bystander intervention. We're hoping to educate at every level so we can create social change. People don't realize that it just takes one ... to make a change."
As for the workshop's focus on coaches, they can play an influential role in the lives of young men, Castelle said. Those coaches often serve as life-long mentors to the boys they coach.
"We all know what powerful role models coaches can be for their athletes," she said. "Coaching Boys into Men, designed by Futures Without Violence, equips coaches and athletic directors with a tool kit and tips for engaging male athletes in middle and high schools with lessons that get at healthy and respectful relationship behaviors both on and off the field, and builds those skills."
Why the focus on the male population? Statistics show a greater prevalence of male perpetrators and female victims. Mason Maynard said that often more of the responsibility is put on the female victim than on the perpetrator. As program director for Cattaraugus Community Action Victim Services, he wants to change that trend and begin to "turn around the overall community view."
"We're doing a Men of Strength training," he said. "I'm interested in increasing my ability to help men take some responsibility."
A Coaching Boys into Men playbook encourages players to treat women with honor and respect and understand that violence never equals strength. There is also a suggested pledge to have confidence in being a role model for positive behavior.
Rena Mead, senior case manager at YWCA, likes the idea of using coaches, but with one caveat.
"You have to have the right coaches to utilize this," she said. "They have to be open-minded, have compassion, patience and a good rapport with team players. I think it's going to take the right coach."
Although coaches often have a stereotypical tough appearance, they should be intolerant of bad behavior, bullying and disrespect, she said.
"They need to be leaders," she said. "I think it's very doable; it's all about education. And those athletes on teams can perhaps influence those who are not on teams."
Domestic violence doesn't usually begin with the actual violence, Graham said. In fact, a dangerous relationship often starts out as a "healthy and beautiful" one. Then symptoms pop up, including verbal and emotional abuse and the perpetrator wielding power and control over the other person. It can be as simple as criticizing the person's outfit, appearance or friends.
Graham had the 16 participants repeat a phrase that she said is important for any individual to understand.
"I have the personal right to a healthy relationship, and anything less than that is not OK," she said.
For more information about the workshop, go to www.CoachesCorner.org.
Source: http://www.thedailynewsonline.com/news/article_e0f8ed1a-c937-11e4-8acc-4b153269b83c.html