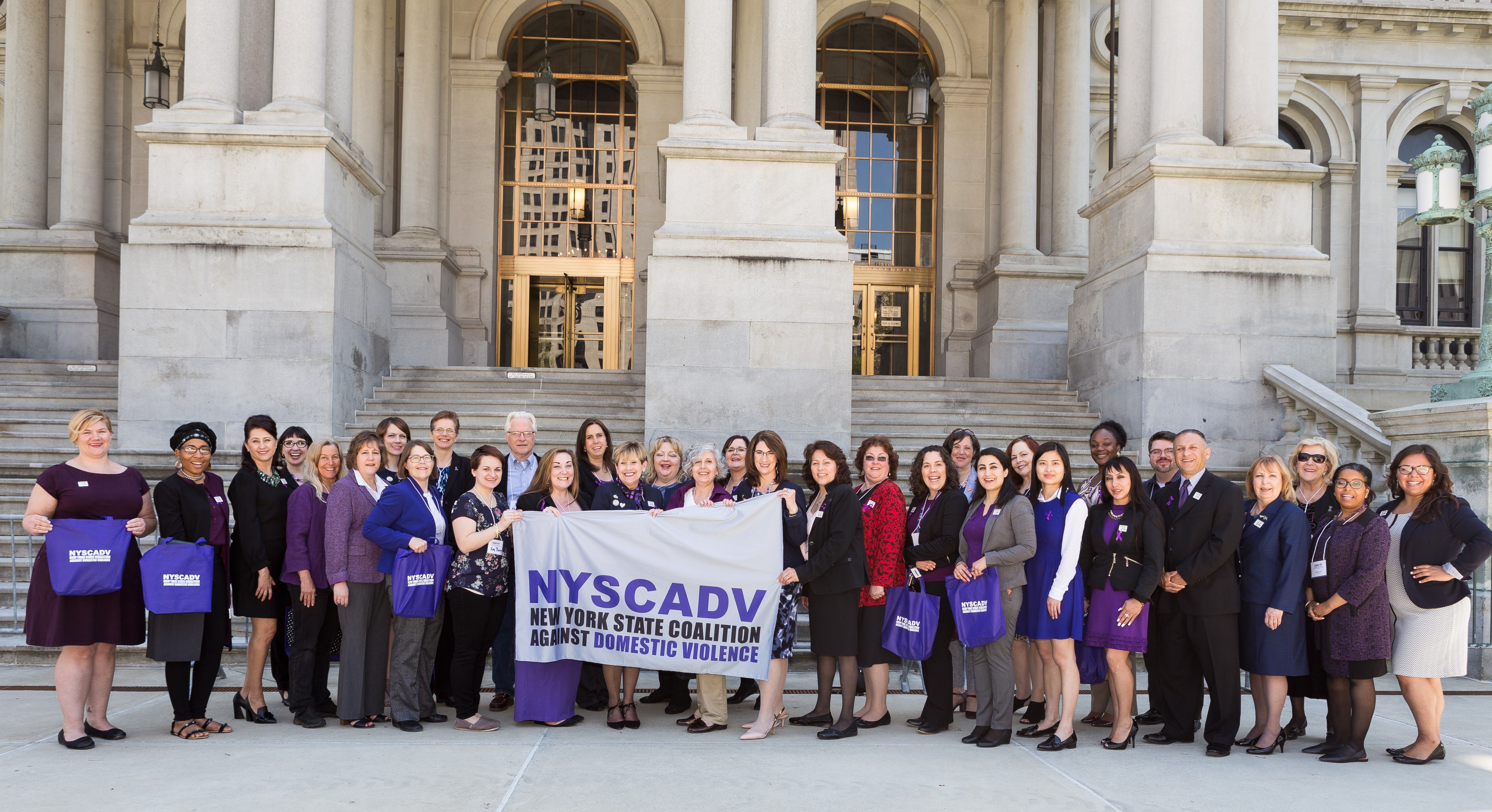 This year's Legislative Session, which ended in June, included significant victories for survivors of domestic violence, sexual assault, and human trafficking as well as incarcerated women. We now wait to see if Governor Cuomo will sign these measures into law.
Several critical initiatives, however, were not approved, as the work of the State Legislature significantly slowed toward the end of the session. Although there is talk of a Special Session occurring later this year, we are not optimistic that these measures will move forward in the current climate. Regardless, we will continue to provide input, guidance and leadership on legislative matters to ensure the voices of domestic violence advocates, survivors and their children are heard.
NEW LAW: prohibits possession of firearms for individuals convicted of misdemeanor offenses involving domestic violence (A10272/S8121)
New York State law already prohibited possession of firearms for individuals convicted of felony or serious offenses, but this excluded certain misdemeanors more commonly associated with domestic violence. This new law adds assault, menacing, criminal obstruction of breathing or blood circulation, unlawful imprisonment, coercion, criminal contempt, harassment, criminal trespass, and arson to the list of offenses requiring surrender of firearms. It also applies the surrender provision to long guns, such as rifles and shotguns, in addition to hand guns.
PASSED: a bill permitting reimbursement to non-physically injured victims for domestic violence shelter costs and costs of crime scene cleanups (A10275/S7993)
Under current law, non-physically injured victims of certain menacing, harassment and criminal contempt and stalking charges are eligible for reimbursement of enumerated expenses by the Office of Victim Services. This bill, which passed both the Assembly and Senate and is waiting action by the Governor, expands reimbursement to shelter costs and for crime scene cleanup expenses.
PASSED: a bill permitting the Crime Victims Board to accept other official documents in lieu of police reports to document eligibility for victim compensation (A3936/S8751)
This bill, which passed both the Assembly and Senate and is waiting action by the Governor, permits a family court, governmental agency responsible for child and/or adult protective services, or any medical facility providing a forensic physical exam for victims of rape and sexual assault to provide documentation of eligibility for compensation for rape, sexual assault, child abuse or domestic violence.
Other bills approved by the Senate and Assembly and waiting action by the Governor:
1. A9566/S8305 -- A bill authorizing the state Office of Temporary and Disability Assistance to contract with not-for-profits to create short-term safe house residential facilities and long-term safe house residential facilities for victims of human trafficking. This bill has the potential to free up a significant number of beds in existing domestic violence and homeless shelters.
2. A6823C/S5988B -- A bill eliminating the need for prosecutors to prove force, fraud or coercion to find an individual guilty of sex trafficking of a child under 18. This will eliminate the need for the victim to testify against the trafficker.
3. A8401C/S8977 -- A bill establishing a sexual assault survivor bill of rights to ensure victims are informed of their legal rights and available services and requires all law enforcement agencies to adopt policies for communicating with survivors that are victim-focused and trauma-informed.
4. A9870/S7836 -- A bill allowing victims of human trafficking to request their cases be moved to a specialized Human Trafficking Intervention Court located elsewhere in the county or an adjoining county, if one exists.
5. A10425A/S8874 -- A bill requiring lodging facilities to post information regarding services available to victims of human trafficking.
6. A588B/S8821A -- A bill providing feminine hygiene products at no cost to incarcerated women.
The following legislation would have had a direct positive impact on victims of domestic violence and their families, yet none were approved this session by both the Senate and Assembly. NYSCADV will continue its advocacy in support of these bills:
1. A3110/S5116 -- The Domestic Violence Survivors Justice Act, which would permit judges to grant alternative sentences to a defendant if at the time of the offense, the defendant was a victim of domestic violence subjected to "substantial physical, sexual or psychological abuse" inflicted by a member of the same family or household; the abuse was a "significant contributing factor" to the defendant's participation in the crime; and, a sentence under current law would be "unduly harsh"
2. A5921 -- A bill requiring the simplification and expansion of information in the notice currently provided to domestic violence survivors
3. A2919/S405 -- A bill protecting the right of individuals to call for police or emergency assistance without direct or indirect penalty or reprisal for doing so
4. A1481A/S5565A -- A bill allowing employees a reasonable accommodation in taking time off from employment to seek medical attention, obtain services from a domestic violence program, participate in safety planning, and obtain legal services
5. A1641A/S2725A -- A bill criminalizing the non-consensual disclosure of sexually explicit images that were obtained under reasonable expectations of privacy
6. A9565A/S7756A -- A bill developing a training program to identify individuals who have experienced Adverse Childhood Experiences, develop effective strategies for assisting and interacting with these individuals, and locate programs and services to which individuals with ACEs may be referred to help build their resilience
7. A1748/S2796 -- The Reproductive Health Act, which would update New York's abortion statutes to address constitutional flaws in our laws and recognize a woman's fundamental right to access safe, legal abortion
8. A5885A/S6575 -- The Crime Victims Act, which would extend the tolling of the statute of limitations for sexual offenses committed against a minor from age 18 to age 23. The bill also would establish a 50-year statute of limitations period for civil causes of actions relating to sexual offenses committed against a minor, provide a one-year window in which to bring previously time-barred civil claims, and eliminate the need to file a notice of claim for sexual offenses committed against a minor
Please contact us at info@nyscadv.org if you have any questions about NYSCADV's legislative priorities.