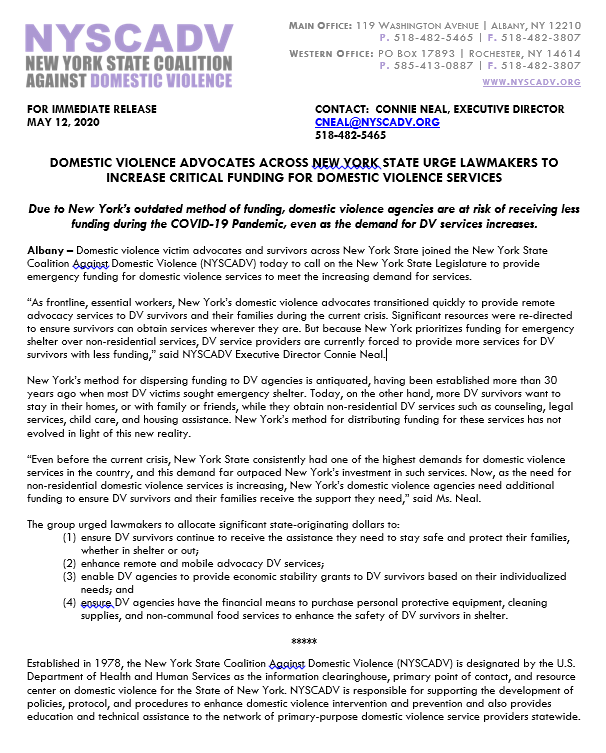 OR IMMEDIATE RELEASE                                                      CONTACT:  CONNIE NEAL, EXECUTIVE DIRECTOR
MAY 12, 2020                                                                                 CNEAL@NYSCADV.ORG / 518-482-5465
Due to New York's outdated method of funding, domestic violence agencies are at risk of receiving less funding during the COVID-19 Pandemic, even as the demand for DV services increases.
Albany – Domestic violence victim advocates and survivors across New York State joined the New York State Coalition Against Domestic Violence (NYSCADV) today to call on the New York State Legislature to provide emergency funding for domestic violence services to meet the increasing demand for services.
"As frontline, essential workers, New York's domestic violence advocates transitioned quickly to provide remote advocacy services to DV survivors and their families during the current crisis. Significant resources were re-directed to ensure survivors can obtain services wherever they are. But because New York prioritizes funding for emergency shelter over non-residential services, DV service providers are currently forced to provide more services for DV survivors with less funding," said NYSCADV Executive Director Connie Neal.
New York's method for dispersing funding to DV agencies is antiquated, having been established more than 30 years ago when most DV victims sought emergency shelter. Today, on the other hand, more DV survivors want to stay in their homes, or with family or friends, while they obtain non-residential DV services such as counseling, legal services, child care, and housing assistance. New York's method for distributing funding for these services has not evolved in light of this new reality.
"Even before the current crisis, New York State consistently had one of the highest demands for domestic violence services in the country, and this demand far outpaced New York's investment in such services. Now, as the need for non-residential domestic violence services is increasing, New York's domestic violence agencies need additional funding to ensure DV survivors and their families receive the support they need," said Ms. Neal.
The group urged lawmakers to allocate significant state-originating dollars to:
ensure DV survivors continue to receive the assistance they need to stay safe and protect their families, whether in shelter or out;
enhance remote and mobile advocacy DV services;
enable DV agencies to provide economic stability grants to DV survivors based on their individualized needs; and
ensure DV agencies have the financial means to purchase personal protective equipment, cleaning supplies, and non-communal food services to enhance the safety of DV survivors in shelter.
*****
Established in 1978, the New York State Coalition Against Domestic Violence (NYSCADV) is designated by the U.S. Department of Health and Human Services as the information clearinghouse, primary point of contact, and resource center on domestic violence for the State of New York. NYSCADV is responsible for supporting the development of policies, protocol, and procedures to enhance domestic violence intervention and prevention and also provides education and technical assistance to the network of primary-purpose domestic violence service providers statewide.