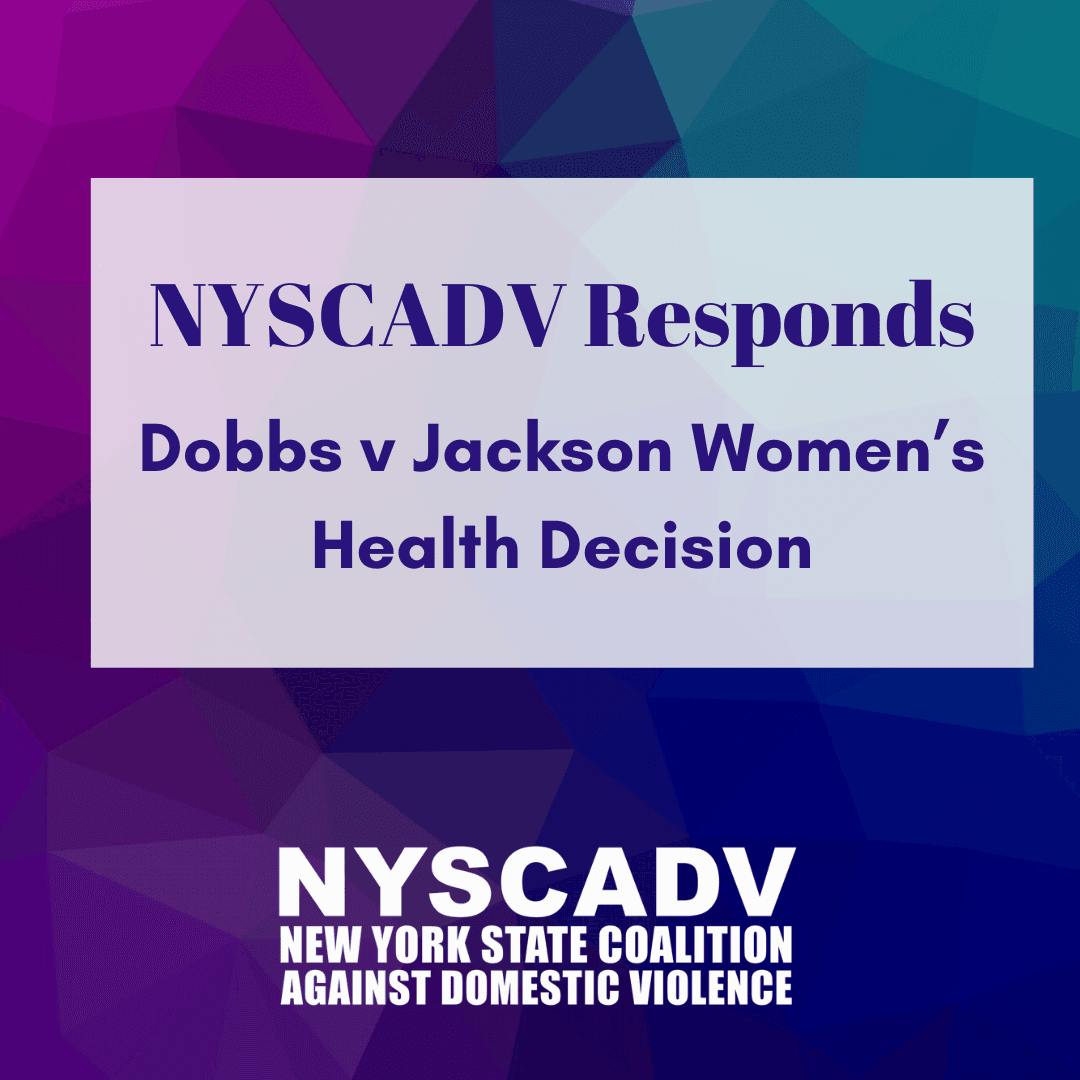 The New York State Coalition Against Domestic Violence is outraged by the Supreme Court's decision in Dobbs v. Jackson Women's Health Organization, effectively overturning Roe v. Wade, ignoring nearly 50 years of precedent, and stripping millions of Americans of a constitutional right.
As an organization that has worked for over 40 years to prevent and stop violence in all its forms, we are devastated by this unconscionable rollback of fundamental human rights. In allowing Mississippi to enforce its harmful 15-week ban on abortion, the Supreme Court is opening the door for dozens of states that have made it clear they will try to severely restrict or ban abortion completely, forcing pregnant people to travel hundreds of miles out of state or carry pregnancies to term against their will. This is a blatant and complete disregard for human dignity. There is no question that this decision will disproportionately impact women and pregnant people who are low-income, BIPOC, LGBTQ, immigrants, and survivors who already face substantial barriers to accessing the healthcare they need.
Domestic violence is about power and control. Many abusers choose to weaponize a partner's bodily autonomy and reproductive choice as tools of violence. Preventing a partner from having an abortion is abuse. Forcing a partner to stay pregnant is, unfortunately, an effective way of keeping them dependent and trapped. When survivors are able to choose for themselves whether to continue pregnancies, their safety is enhanced as they move forward in creating new lives for themselves.
Quite simply, reproductive rights and access to abortion are critical to survivors' health, safety, and autonomy. In New York, abortion remains safe and legal thanks to the 2019 passage of the Reproductive Health Act. The state remains a safe harbor for people seeking abortion care, but this does not change the fact that millions of pregnant people across the country will be harmed by the Supreme Court decision.
All people, including domestic violence survivors, deserve full control over their lives and choices, including the ability to safely and freely choose whether or not to become, or stay, pregnant. We will not stand silently by while the rights of so many are taken away. Together, we will work for a better future, where all health care, including abortion, is accessible and where everyone is free to make decisions about their futures and their families.