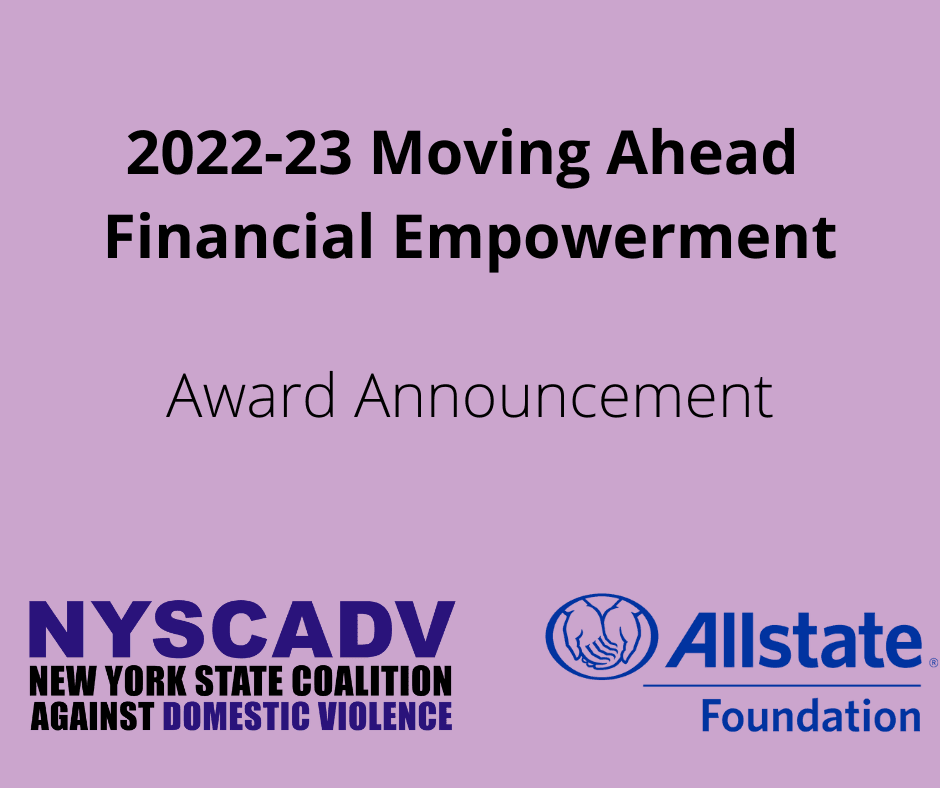 Albany, NY — The New York State Coalition Against Domestic Violence (NYSCADV) is providing economic empowerment grants to Brighter Tomorrows, Inc., The Retreat Inc., Sakhi for South Asian Women, and Catholic Charities Herkimer County Domestic Violence Program to support survivors of financial abuse. NYSCADV received funding for the fourth year in a row through the Allstate Foundation's "Moving Ahead" program.
The Retreat, Sakhi for South Asian Women, and Catholic Charities Herkimer County will each receive an award of $20,000. The agencies' programming will be based on the "Moving Ahead Curriculum" developed by the Allstate Foundation and the National Network to End Domestic Violence. Brighter Tomorrows, which has been a project sub-grantee for the three prior years, has been awarded a $5,000 mentoring grant to help support their economic empowerment work. Through this grant, Brighter Tomorrows will draw upon their past organizational successes and serve as a support and resource to the other three grantees, offering practical tips and suggestions, strategies and best practices around economic empowerment programming.
Loretta Davis, Executive Director at The Retreat, said: ""The Retreat is thrilled and honored to be a recipient of the Allstate Foundation Moving Ahead Financial Empowerment Project. Financial abuse impacts almost all survivors and is a power and control tool employed by abusers. This grant will help to provide the needed resources for survivors to become financially independent and live sustainable lives with their children. The grant will assist in providing education and support to survivors in the areas of budgeting, job readiness, debt reduction and improved credit as well as future financial planning and more. The Retreat is so thankful for this grant which will clearly help to change lives."
Kavita Mehra, Executive Director at Sakhi for South Asian Women, said: "At Sakhi for South Asian Women (Sakhi), we have long recognized the close links between financial independence and domestic violence, and have consistently provided financial empowerment programming to survivors since 1991. That is why we at Sakhi are thrilled to be a recipient of the Allstate Foundation Moving Ahead grant, which recognizes the central role of economic justice in a survivor's journey. This grant will deepen the impact of our survivor-centered and trauma-informed "EE Connections" support group, which offers survivors a community of peer support on their journey to financial stability."
Jackie Ward, Program Director of the Domestic Violence Program of Herkimer County, said: "Catholic Charities Domestic Violence Program in Herkimer County is grateful to be a recipient of Economic Empowerment funds through the Allstate Foundation. These funds will allow us to assist victim/survivors in developing skills necessary to gain independence through financial readiness including job readiness, building and/or repairing credit and learning how manage their financial situation to the best of their ability. This support will assist us with expanding our services in our rural area and we are thrilled to partner with NYSCADV on this project."
Dolores Kordon, Executive Director at Brighter Tomorrows, said: "We are so pleased to provide technical assistance to new grantees of the Allstate Funding to provide the Moving Ahead financial literacy program to survivors. After using the curriculum for three years, Brighter Tomorrows can attest to how the program enhances services provided by the agency. Financial literacy in conjunction with housing options, counseling and legal services empower survivors in their quest for independence. The partnership with NYCADV has enabled Brighter Tomorrows to make financial literacy and match savings an integral part of what the agency offers."
Gina Peattie, Deputy Director of NYSCADV, said, "Since launching the economic empowerment project in New York State, domestic violence advocates have assisted more than 1,000 survivors working to overcome financial challenges and build financially independent lives. NYSCADV and sub-recipients have trained over 2,000 advocates on the Moving Ahead curriculum and strategies to support survivors with financial education, asset-building, job readiness, and more. NYSCADV is pleased to continue this project to reach more survivors of domestic violence throughout the coming year. We are excited to expand our programming and capacity through a new Mentoring Grant awarded to Brighter Tomorrows, to continue to support their economic empowerment work as well as utilize their expertise to provide support and technical assistance to new grantees, drawing upon years of experience in building their own local economic empowerment offerings and match savings program."
With support of Allstate Foundation funding, NYSCADV will also offer statewide trainings to advocates on the Moving Ahead curriculum, how to start or enhance economic empowerment programming in local organizations, and information/resources on various topics that intersect with economic justice issues.
About the New York State Coalition Against Domestic Violence:
Founded in 1978, NYSCADV is a statewide nonprofit organization working to create and support the social change necessary to prevent and confront all forms of domestic violence. NYSCADV is designated by the U.S. Department of Health and Human Services as the information clearinghouse, primary point of contact, and resource center on domestic violence for the State of New York. NYSCADV is responsible for supporting the development of policies, protocol, and procedures to enhance domestic violence intervention and prevention and also provides education and technical assistance to the network of domestic violence service providers statewide. For more information about NYSCADV, visit www.nyscadv.org.
To download the press release, click here.