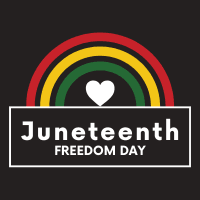 Juneteenth, also known as Freedom Day, commemorates the end of slavery in the United States. On June 19, 1865, Union Army General Gordon Granger arrived in Galveston, Texas and informed the enslaved African Americans in the area that they were free. This news came two and a half years after President Abraham Lincoln signed the Emancipation Proclamation. However, due to various reasons, it had not been fully enforced in Texas until General Granger's arrival.

Juneteenth has been celebrated as an important holiday in Texas since 1866 and has spread to other parts of the United States. It is a day to celebrate freedom, remember the struggles and sacrifices of African Americans throughout history, and continue to work toward equality and justice for all.

As we celebrate Juneteenth, we must also acknowledge the ongoing struggle for racial justice in the United States. While progress has been made, much work must be done to address systemic racism and ensure that all people are treated with dignity and respect. Juneteenth is a reminder of the resilience and strength of the African American community in the face of adversity and a call to continue the fight for justice and equality.

There are various ways to acknowledge Juneteenth, from attending community events and parades to educating yourself and others about the history and significance of Juneteenth. Here are some resources to get you started:
These are just a few of the many resources available to learn about Juneteenth. Educating ourselves and others about the history and significance of Juneteenth is an important step toward building a more just and equitable society.
Additional Resources on Dismantling Oppression:
NYSCADV Primary Prevention Toolkit-Dismantling Oppression: Resources in this section address the ways we can, and must, engage with our communities and work to acknowledge the interconnectedness of all forms of oppression – racism, sexism, heterosexism, classism, adultism, ableism, etc. Challenging imbalances of power are key to creating a healthy and safe community, a community which views all of its members as valuable, ensures access to resources and opportunities and which views violence, including institutional violence, as intolerable and works in partnership and as allies to prevent it.