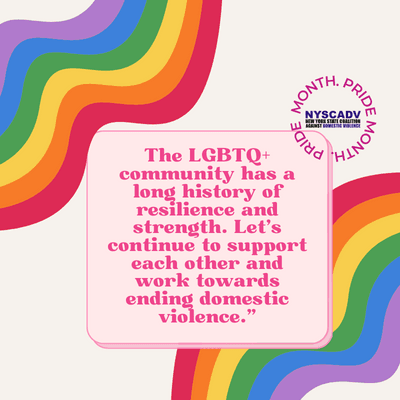 Continuing our journey towards affirming, inclusive, and accessible services for LGBTQIA+ survivors across New York State, this week's resources focus on organizational assessments and assessment tools. Assessment tools help service providers ensure that the needs of survivors with the most barriers to service are considered and prioritized. There is no question that endeavoring in any type of assessment process is a huge undertaking, resulting in both highlights and areas of concern, but continuous reflection is critical to intentional and authentic change. Here are a few resources to start your assessment journey.
Join Live:
Supporting LGBTQ+ Stalking Victims
July 31 at 12pm
When responding to and supporting lesbian, gay, bisexual, transgender, and queer (LGBTQ+) stalking victims, most of the same stalking information, behaviors, risks, and safety planning considerations apply as when working with the general population. In addition, it is critical to consider specific issues that may affect LGBTQ+ stalking victims. Join SPARC and FORGE in this webinar to discuss working with LGBTQ+ individuals who may be experiencing stalking. Register here!
Assessment Tools:
Self-Assessment Tool: Is Your Agency Ready to Serve Transgender and Non-Binary Clients?

(Forge)




This checklist helps agencies check the following areas for trans-competency: Forms and paperwork; Bathroom options; Service options and curriculum; Advertising/publicity; Displayed materials; Referrals; Visible feedback/complaint mechanisms; Tracking clients; and Training.

NYS LGBTQ+ IPV Network Service Access Assessment Toolkit

(NYS LGBTQ+ IPV Network)




Providing services to LGBTQ+ and/or TGNCNB BIPOC survivors includes deconstructing the heteronormative paradigm of "domestic violence" to include LGBTQ+ and/or TGNCNB BIPOC survivors at every level of programming, policy, and service planning. By completing this tool, service providers can take an important step in providing affirming services for LGBTQ+ and/or TGNCNB BIPOC survivors of violence. LGBTQ+ and/or TGNCNB BIPOC survivors are often not prioritized by IPV service providers, which can lead to further traumatization and isolation for these survivors. It is also important

to create

safe and affirming spaces for LGBTQ+ and/or TGNCNB BIPOC staff within IPV service organizations, as they are often at the front lines of serving survivors and are often survivors themselves.

Improve Privacy as a Strategy to Increase LGBTQ Access to Existing DV Shelter Programs




Healing from trauma is promoted when survivor self-determination is increased and isolation is decreased.




private rooms/units

pared with voluntary access to collective space advances both of these goals. Increasing privacy for LGBTQ DV survivors and their children can provide substantial benefits for all DV survivors and will increase access for diverse LGBTQ survivors.