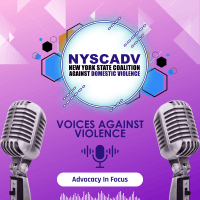 We're thrilled to announce the launch of "Voices Against Violence: Advocacy in Focus," produced by the New York State Coalition Against Domestic Violence (NYSCADV).
For over four decades, NYSCADV has been at the forefront of the fight against domestic violence in the state of New York, relentlessly working to support survivors through community outreach, training, and policy development. As a statewide membership organization, we're driven by our mission to create social change that prevents and confronts all forms of domestic violence.
Our podcast promises engaging content, featuring interviews with both national and local experts, deep dives into primary prevention practices, discussions on legislative advocacy, and thought-provoking explorations of the intersections between domestic violence and social issues, pop culture, and more.
Find us on all streaming platforms to stay updated and access all episodes. Remember to hit the "like" and "subscribe" buttons to be notified when new episodes are released.
Join us on this transformative journey as we unite in the fight against domestic violence. Together, we can profoundly impact and work toward a world without domestic violence.
Thank you for being part of this vital mission.