The Advocates' Role in Supporting IPV Survivors Who Have Been Criminalized Training Series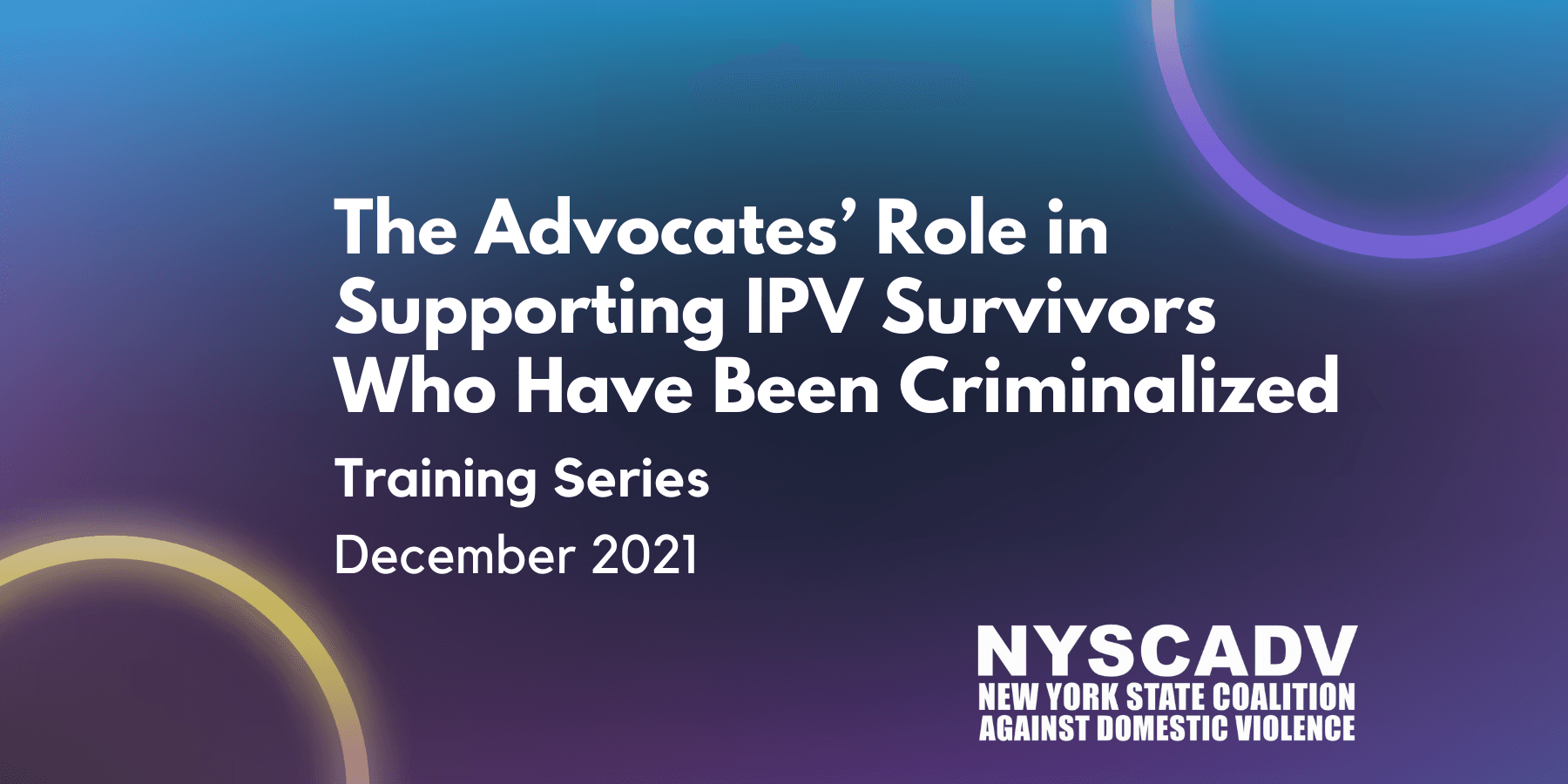 Join NYSCADV for a series of events aimed at elevating the needs of survivors who have been criminalized as they navigate New York's criminal justice system. Each event will probe the unique role DV advocates have in providing supports to survivors throughout their journey.
Part 1: A Conversation with IPV Survivors Who Have Been Criminalized
Held on December 7, 2021 from 2:00 PM- 4:00 PM ET
Join Rev. Sharon White-Harrigan, LMSW, Patrice Smith and Monica Szlekovics in a discussion about the scope and scale of IPV survivor criminalization, the needs of survivors who have been criminalized, and the need to remove barriers to assist IPV survivors as they navigate the various stages of the criminal justice system.
Panelists include:
Sharon White-Harrigan is the Executive Director of the Women's Community Justice Association (WCJA), a gender-specific, trauma-informed, advocacy-for-justice agency that uplifts and amplifies the voices of women who are experts through their life experiences and efforts. She has worked in a range of direct service fields including re-entry, domestic violence, homelessness, mental health and substance abuse, and was a leader in the successful 10-year campaign to pass NY's Domestic Violence Survivors Justice Act in 2019. In her work, Sharon draws upon her expertise as a licensed social worker, survivor of violence, and survivor of 11 years of incarceration. 
 
Patrice Smith was the first person to be released from prison under the Domestic Violence Survivors Justice Act. She had been incarcerated since she was 16 years old and was released in September 2020, after serving nearly 22 years in prison. While in prison, Patrice earned her Associate of Arts in Social Sciences and her Bachelor of Arts in Sociology from Marymount Manhattan College. Patrice draws on her experience as a survivor of abuse, the traumatization of prison as someone who was given a potential life sentence as a teenager and navigating the reentry process as a survivor in her advocacy efforts. Patrice is also invested in the education of returning women who were criminalized survivors; and them having access to the resources they need to negotiate a career in the Tech industry. 
 
Monica Szlekovics is a Program Assistant at Marymount Manhattan's Bedford Hills College Program and is a member of the Survivors Justice Project. In January of 2020, after serving 23 years of a life sentence, Monica was granted clemency by former Governor Andrew Cuomo, an extraordinary executive remedy that has rarely been applied in murder cases in the past 30 years. In granting clemency, the former Governor recognized that Monica's conviction, which stemmed from a 1996 capital murder case, was the direct result of extreme gender-based violence. Monica resides in Rochester where she continues to support prison education programs and advocate for victims of gender-based violence in the criminal legal system.
 
Part 2: Best Practices for Supporting IPV Survivors Who Have Been
December 9, 2021 from 2:00 PM - 4:00 PM
Join a panel of victim service organizations currently providing comprehensive support services to criminalized survivors. Participants will learn the specific harm the criminal legal system causes to IPV survivors and the value of grounding supportive work in the tenets of healing-centered, anti-oppressive practice. Panelists will describe how their organizations initiated their criminalized survivor support programs, the benefits and challenges of the work, and new opportunities for supporting criminalized survivors with passage of the Domestic Violence Survivor Justice Act.
Panelists include:
Patrice D. James, LMSW and Julia Shaw, LMSW, Co-Directors of the Criminalized Survivors Program at STEPS to End Family Violence (STEPS) - Rising Ground's designated anti-violence program, which offers a variety of healing-centered, anti-oppressive programming focused on the prevention of IPV; advocacy and healing for survivors and children impacted by abusive partner behavior; training and education intended to increase awareness of the epidemic of gender-based violence; and accountability supports for people who have caused harm to their intimate partner. STEPS is committed to elevating the voices of all survivors of IPV with special commitment to privileging the narratives of criminalized survivors, immigrant survivors, and adolescent survivors. Continuing the tradition that first led to its founding, STEPS remains highly committed to raising awareness of the direct link between IPV and criminalization by providing direct support to survivors who have been arrested for their efforts to survive and/or resist their abusive partner's behavior.

Sarah McGaughnea is the Outreach Program Director of DV Services at Unity House of Troy. Unity House provides a wide range of services to meet the otherwise unmet needs of people in Rensselaer County who are hurting and struggling. They assist those who are living in poverty, adults living with mental illness or HIV/AIDS, victims of domestic violence, and children with developmental delays. They work to achieve social justice in the community and to create a better understanding of those they serve.

Ria Sarkar s the Domestic Violence & Sexual Assault Advocate at In Our Own Voices., an organization that works for and ensures the physical, mental, spiritual, political, cultural and economic survival and growth of the lesbian, gay, bisexual and transgender people of color communities. Her role at In Our Own Voices includes providing direct services to survivors of  crime as well as advocacy, case management and emotional support. Ria sits on task forces locally as well as on a national level. Ria is currently pursuing her MSW at Silberman School of Social Work in hopes to better serve her community.