Virtual Prevention Summit 2020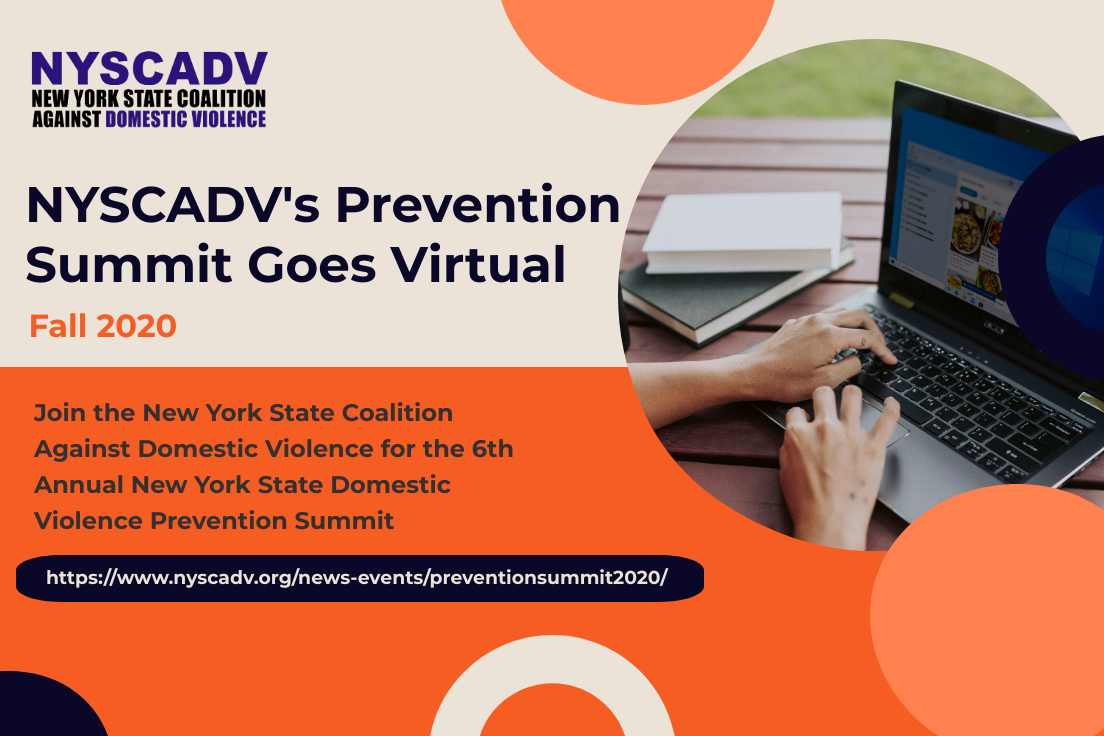 In 2020 the New York State Coalition Against Domestic Violence held their 6th Annual New York State Domestic Violence Prevention Summit exploring effective approaches to preventing intimate partner violence before it begins across the spectrum of gender identity and sexual orientation. 
Since we were unable to gather in person, this year we offered 6 summit workshops in a virtual format.
WHO SHOULD ATTEND?
Domestic Violence and Sexual Violence Prevention Educators & Advocates

Youth Advocates

Coaches

Youth Community Activity Leaders

Athletic Directors

School Administrators

School Counselors

Parents

State Partners

Funders
Sessions
Engaging and Mobilizing Men: A Review of the State of the Field, and Implications for Movement Making in NY, Part I
Thursday, November 12, 2020, from 2:00 – 3:15 PM

Presenter: Rus Funk, Rus Funk Consulting
This session will provide an overview of the state of the field report and will presented by Report Author, Rus Funk, who will provide an overview of the NAMEN "State of the Field Report" findings.
The North American MenEngage Network (NAMEN) is finalizing a "State of the Field" report of the engaging men movement in Canada and the US. This Report reviews the current status of efforts to engage and mobilize men to prevent gender-based violence. Some of what this report examined includes:
What ages are engaging men efforts focused on

What theoretical frames are most widely used

Where are engaging men efforts based (community, campus, agency, etc)

What populations of men are being focused on (athletes and coaches, men of faith, men as parents, students, fraternity men, men in unions, etc.)

What themes are emerging in the efforts to engage men and boys

What gaps currently exist.
Click here to watch the recording of this webinar.
Click here to download the slides.
---
Roundtable Discussion: Engaging and Mobilizing Men Movement Making in NY Part II
Tuesday, November 17, 2020, from 1:00 -2:30 PM
 
Facilitator: Rus Funk, Rus Funk Consulting
Roundtable Participants: I Geena Cruz, CEO, Heels of Greatness; George Kilpatrick Jr. MPA
Project Coordinator-Men's Outreach, Vera House; Rowan Reyes;
James Young, Program Director, Queery.
Join us for a roundtable discussion featuring NYS based engaging men prevention advocates as we re-envision the New York Primary Prevention Plan. During this discussion we will be seeking feedback from panelists and participants to the North American state of the field report and discuss similarities and differences present in communities across New York.  This will inform NYSCADV's continuing work with NYSCASA and Seven Dancers Coalition to revise the engaging men strategies of the statewide prevention plan.
Click here to watch the recording of this roundtable.
---
Reflections on the Adverse Childhood Experiences Study: Prevention Perspectives
Monday, November 23, 2020, from 11:00 AM – 12:15 PM 
Presenter: Tim Hathaway, Executive Director, Prevent Child Abuse New York
This session will provide a look at the Adverse Childhood Experiences study(ACEs) along with related enhancements on that core work all within the context of primary prevention efforts. Implications for special populations including men and boys will be discussed. The use of ACEs as a prevention strategy will be explored. 
Click here to watch the recording for this webinar.
---
Preventing and Responding to Adolescent Relationship Abuse: Making the Case for School Nurse Engagement
Tuesday, December 1, 2020, from 11:00 AM-12:30 PM

Presenter: Lorien Castelle, Director of Prevention, New York State Coalition Against Domestic Violence
This session will focus on strategies for engaging school nurses to support them to increase their capacity to promote primary prevention messaging from their school based health settings as well as to identify and respond to Adolescent Relationship Abuse (ARA.) ARA includes dating violence, sexual violence and reproductive and sexual coercion. 
Topics include health interventions for adolescents in a public school health setting, identifying opportunities and methods for promoting prevention by educating adolescents about healthy relationship behaviors, pathways to invite and nurture partnerships with local domestic violence programs, how to support school nurses to engage parents, conversation starters, and more.
Special attention will be paid to adjusting traditional approaches to school engagement during COVID-19.
This material is appropriate for prevention educators.
Click here to watch the recording for this webinar.
Presenters
Lorien Castelle

Lórien Castelle has been an activist and advocate for social justice issues focusing on gender based violence for over two decades. She joined the team at the New York State Coalition Against Domestic Violence (NYSCADV) in 1998 and has had the honor of working closely with communities and state coalitions across the country during her tenure. Ms. Castelle split her time between NYSCADV and the Pennsylvania Coalition Against Domestic Violence from 2011- 2013 in order to launch a statewide prevention initiative in Pennsylvania. Ms. Castelle specializes in community and school-based based prevention strategies, including: teen dating violence prevention, promoting healthy relationship norms, developing youth activism and leadership, engaging men as allies, workplace violence prevention and community organizing. She has a strong background in organizational development and strategic planning which she applies to coalition building, prevention planning and supporting coordinated community response efforts.

Ms. Castelle works on many of NYSCADV's special projects including promoting best practices for serving people who have been victimized and organizational capacity building with a particular lens on trauma-informed, survivor-driven approaches. Ms. Castelle serves on numerous national, statewide and regional committees and is a much sought after trainer, meeting facilitator and keynote speaker. As Director of Prevention for NYSCADV she has assisted communities in designing and launching local initiatives in and across school districts, college campuses and in the workplace with activities that promote social norms change and prevent domestic violence from happening in the first place. Ms. Castelle provides a wide range of coaching, support and training to domestic violence programs and allies throughout New York State and to coalitions and communities throughout the country.

Ineabelle Geena Cruz is an unapologetic and fierce activist, speaker and consultant. Ms. Cruz has spent the past two decades, addressing issues surrounding intimate partner violence, prevention and intervention, poverty, community and economic development. She is founder of ROC with Her where she has registered over 300 youth and eligible individuals to vote and raises awareness on civic engagement.

Rus Ervin Funk is a consultant specializing in working with organizations and communities to promote healthy masculinities; equity, diversity and justice; and violence
prevention. Rus is a long-time activist and community organizer focusing on anti-racism, and gender justice.
Among his organizing efforts, he is co-founder of DC Men Against Rape (now Men Can Stop Rape, Inc.), Men for Gender Justice, the Baltimore Alliance to End Child Sexual
Abuse, MensWork: eliminating violence against women, the Own It Initiative (a project of the Center for Women and Families), the Ohio Men's Action Network, White Folks
Against Racism, among others.

Tim Hathaway, ED PCANY

Tim Hathaway is the Executive Director of Prevent Child Abuse New York (PCANY), the only statewide organization that works solely to enhance state- and community-based prevention initiatives to build strong families. PCANY training and technical assistance efforts are geared to provide professionals and communities with knowledge, tools, and resources that increase use of the Protective Factors to help prevent child maltreatment. Their policy and advocacy work drives initiatives both at a state and local level designed to change systems that impact child maltreatment. Tim has over thirty years of experience working with children and families and the systems that serve them. For the past nine years he has been a part of Prevent Child Abuse network both in NY as well as North Dakota. Prior to this he was a part of the Federal Head Start Technical Assistance team, and directed Head Start, Early Head Start and Child Care programs in various states.

George Kilpatrick is the Men's Outreach and Project Coordinator and certified educator at Vera House. Vera House is a comprehensive domestic violence and sexual assault agency, providing outreach to men in the prevention of domestic violence, sexual assault, and healthy masculinity. He conducts workshops and trainings nationally, and is a member of the Futures Without Violence Coaching Boys into Men National Advisory Council. Kilpatrick also facilitates the Vera House 12 Men Model where men engage and hold their peers accountable through conversations to redefine masculinity and healthy relationships.

Rowan Reyes, MSW, CYT

Rowan Reyes, MSW, CYT (they/them) is a queer, non-binary trans activist, educator, visual artist and poet. Rowan's mission is to (co)create transformative experiences to cultivate healing and fuel collective liberation. These experiential containers include interactive workshops, professional trainings, spiritual circles, and trauma-informed movement/embodiment classes. Whether barefoot on the mat or behind a podium, the unifying aim of Rowan's work is to sow and nurture the seeds of anti-oppressive social change. For more info: mx.rowanreyes@gmail.com.