Prevention Summit 2021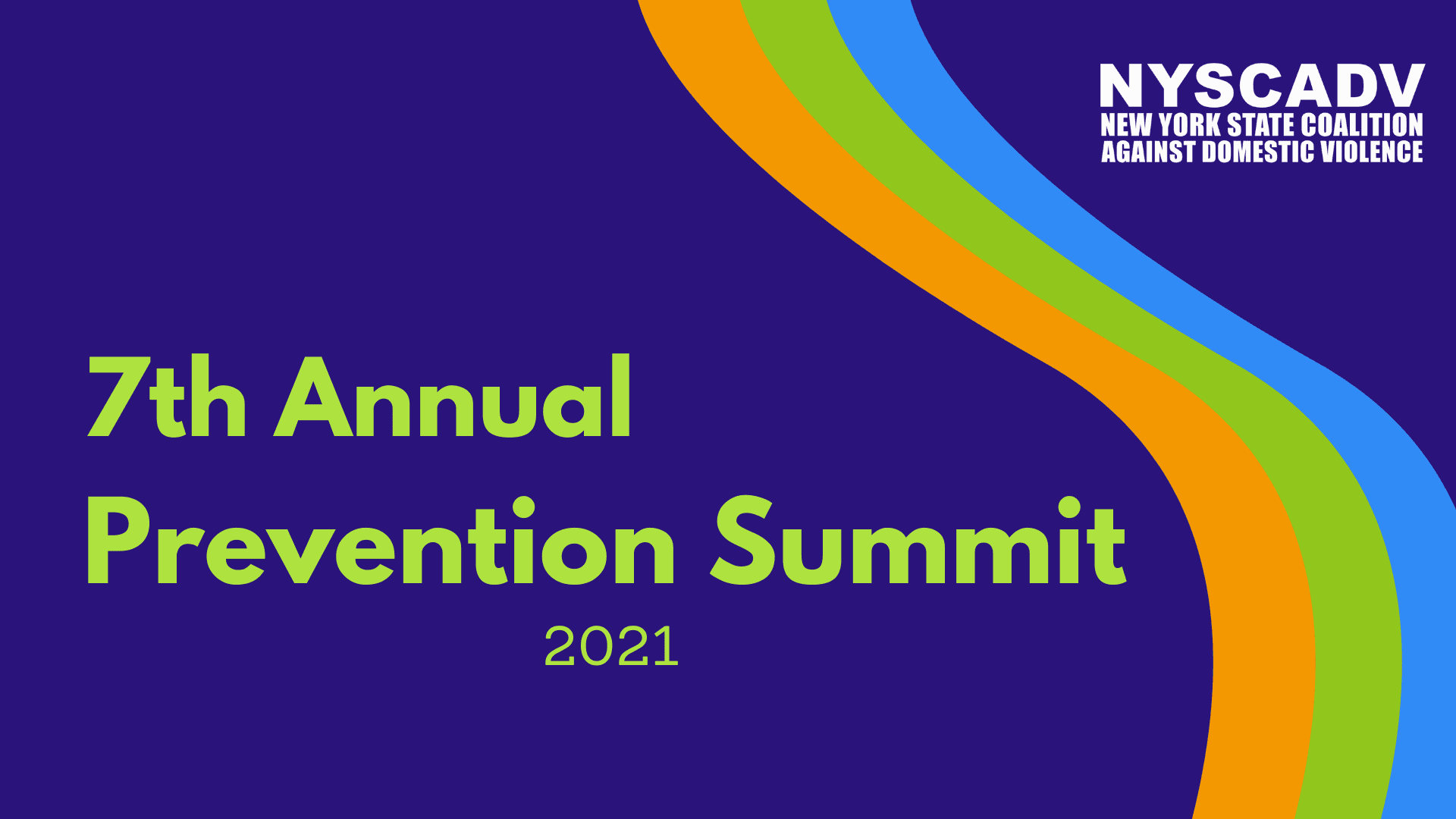 In 2021, NYSCADV hosted the 7th Annual Prevention Summit during which we explored effective approaches to preventing intimate partner violence before it begins.
Workshops and sessions were offered virtually.
Sessions
Bridging the Gap: Community-level to Community-Driven Prevention
Tuesday, November 30, 2021 from 1:00 - 3:00 PM
Eric McGriff will be offering an interactive workshop at that will allow participants to experience a participatory and relational model for planning, implementing, and evaluating coordinated community responses to violence with a focus on prevention.

Eric has this to say about the session:
"…By calling attention to the ways we hold space; as facilitators, trainers, community advocates, and leaders, this workshop invites folks to make subtle yet powerful changes in the ways we interact with the communities we serve in order to create fertile ground for the "radical collaboration" that will help us adapt and tap into a community's evolutionary potential.

How do we bridge the gap between evidence-based models and the ever-emerging, on-the-ground contexts in which we find ourselves? Additionally, how do we engage community after a collective trauma, like those we face today, which highlight and exacerbate the inequities in our work to prevent and respond to violence? In the increasingly diverse, complex, and interconnected world we live in, machine-model, one-size-fits-all interventions are becoming less and less effective at solving today's complex challenges.

Participants will explore the social technology of complex facilitation, psychological safety, and participatory decision-making as a means through which we can exercise a humble inquiry that recognizes and amplifies the humanity and expertise each person brings to our collective spaces. Facilitators are evaluators, and evaluators are facilitators, and the way we facilitate matters." 

None of us can see into the future, and we cannot know what folks don't feel safe enough to share, but maybe we can develop the ability to sense what's next for us. With a new social technology that embraces our collective minds, and hearts, we can create favorable conditions for navigating through uncertainty, and sense toward our greatest possibilities, together."
Prevention Educators Learning Exchange with NYSCADV & NYSCASA 
Monday, December 6, 2021 from 1:00 - 3:00 PM
We want to hear from you!
Domestic Violence and Rape Crisis programs throughout New York have displayed a strong commitment to preventing intimate partner and sexual violence with robust primary prevention strategies and programming over the past two decades. Over the past 18 months, COVID required that providers rethink and innovate, not only around how to best serve survivors, but to also consider alternative methods for engaging the community in primary prevention and social change efforts to address and eradicate all forms of gender based violence. Now, in the context of pandemic-related stressors and what some are referring to as the "Great Resignation," many programs are dealing with intensified levels of burnout, secondary trauma, compassion fatigue, and staff turnover that are impacting both staff well-being and their ability to sustain their efforts, including their prevention work.
NYSCADV and NYSCASA will be co-facilitating a discussion for primary prevention educators and advocates to learn about how programs have created innovative approaches to adapt to their communities prevention needs during the ongoing COVID pandemic as well as how they are grappling with ongoing issues of capacity in their prevention efforts.
This peer-to-peer discussion is open to all prevention educators and advocates affiliated with NYSCASA and NYSCADV and is an opportunity to discuss with each other and your state coalition staff the issues you are currently facing, strategies you are using to continue doing work that seeks to stop gender-based violence before it starts and an opportunity to strategize solutions together as we all prepare activities for 2022. NYSCASA and NYSCADV seek to learn from you how we can best support your efforts in 2022 and beyond.
*This session was not recorded.
"You Throw Like A Girl" Screening and Discussion
Held on Monday, December 13, 2021 from 2:00 PM - 3:30 PM
On December 13th, 2:00 – 3:30 pm a screening of "You Throw Like a Girl," a Media Education Foundation film based on Don McPherson's book of the same title. This event, sponsored by the New York State Coalition Against Sexual Assault, was followed by a discussion led by Don McPherson.
More on "You throw Like a Girl"
Former Syracuse University quarterback and NFL veteran Don McPherson examines how narrow definitions of masculinity adversely affect women and create "blind spots" that hinder the healthy development of men. Dissecting the strict set of beliefs and behaviors that underpin our understanding of masculinity, he contends that we don't raise boys to be men, we raise them not to be women, and argues that viewing violence against women as a "women's issue" not only ignores men's culpability but also conflates the toxicity of men's violence with being male. Using examples from his own life, including his storied football career, McPherson leads us beyond the blind spots of traditional masculinity and toward solutions that engage men in dialogue. 
A special thank you to our partners at the New York State Coalition Against Sexual Assault for co-sponsoring this session.
*This session was not recorded.
Athletes as Leaders: An Overview
December 15, 2021 from 1:00 PM - 3:00 PM
This session will provide an overview of Athletes As Leaders, a program for athletes on high school girls' sports teams. Learn about the program model and how to get it started in your community. We will also share content from the program sessions, including updates for the new 2021 edition!
*This session was not recorded.