Prevention Summit 2021- Meet the Presenters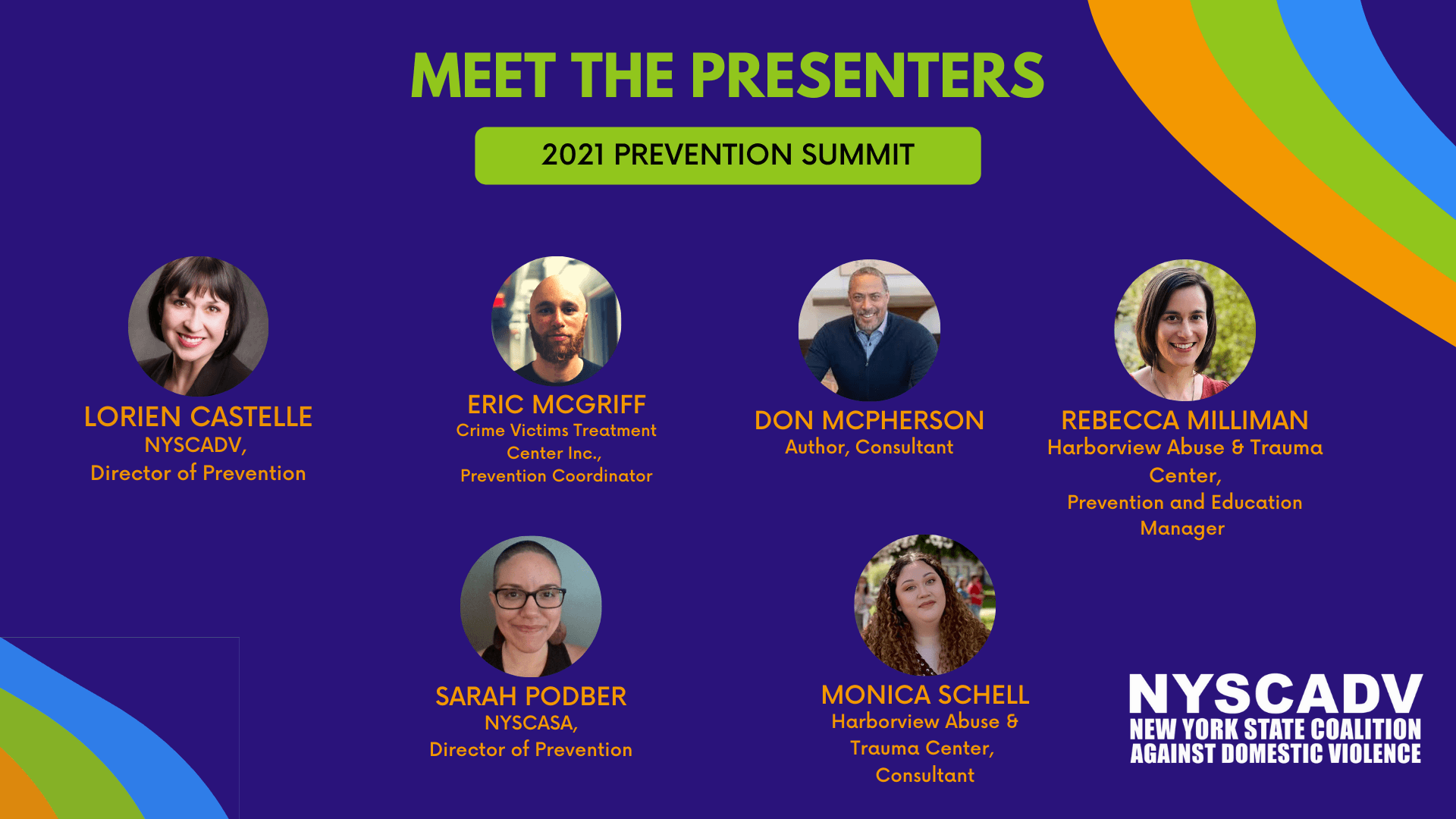 Lorien Castelle

Lórien Castelle has been an activist and advocate for social justice issues focusing on gender based violence for over two decades. She joined the team at the New York State Coalition Against Domestic Violence (NYSCADV) in 1998 and has had the honor of working closely with communities and state coalitions across the country during her tenure. Ms. Castelle split her time between NYSCADV and the Pennsylvania Coalition Against Domestic Violence from 2011- 2013 in order to launch a statewide prevention initiative in Pennsylvania. Ms. Castelle specializes in community and school-based based prevention strategies, including: teen dating violence prevention, promoting healthy relationship norms, developing youth activism and leadership, engaging men as allies, workplace violence prevention and community organizing. She has a strong background in organizational development and strategic planning which she applies to coalition building, prevention planning and supporting coordinated community response efforts.

Ms. Castelle works on many of NYSCADV's special projects including promoting best practices for serving people who have been victimized and organizational capacity building with a particular lens on trauma-informed, survivor-driven approaches. Ms. Castelle serves on numerous national, statewide and regional committees and is a much sought after trainer, meeting facilitator and keynote speaker. As Director of Prevention for NYSCADV she has assisted communities in designing and launching local initiatives in and across school districts, college campuses and in the workplace with activities that promote social norms change and prevent domestic violence from happening in the first place. Ms. Castelle provides a wide range of coaching, support and training to domestic violence programs and allies throughout New York State and to coalitions and communities throughout the country.

Eric McGriff

Eric McGriff is the Prevention Coordinator at the Crime Victims Treatment Center (CVTC), Inc., where he supports community-level efforts to prevent and respond to violence in New York City, and across the globe.

McGriff has an extensive background as a domestic and sexual violence trainer and facilitator engaging, among other populations, K-12 schools, college campuses, men and boys, and men who batter. He has facilitated and trained for several national and international entities including, the U.S. Department of Justice Office for Victims of Crime and The National Centers for Victims of Crime. As a former Spokesperson for U.N. Women and a current Global Peace Ambassador, Eric also has a background supporting various United Nations efforts to address issues at the intersections of youth, gender, and violent extremism.

Inspired by CVTC's trauma-focused, relational, and affect-centered therapeutic model, McGriff's work to transform communities bridges the gap between evidence-supported interventions and local community context by folding trauma-informed, participatory principles and practices into public health approaches. Through a framework of cultural humility, and with a focus on system collaboration and psychological safety, Eric seeks to tap into community's existing expertise and evolutionary potential to learn about, build, and discover structures and practices that better meet the needs of its most vulnerable populations.

Don McPherson is the 2021 recipient of the William Pearson Tolley Medal for Distinguished Leadership in Lifelong Learning, presented by Syracuse University's School of Education and, the 2020 National Football Foundation's Outstanding Contribution to Amateur Football. These honors signify a lifelong mission to use a unique social position to serve the greater good.

In 2019 McPherson published You Throw Like a Girl: The Blind Spot of Masculinity, which chronicles 37 years of harnessing the power and appeal of sport to address complex social issues and focuses on a quarter century of work on gender-based violence prevention.

McPherson was an All-America quarterback at Syracuse University and is a veteran of the NFL and Canadian Football League. As captain of the undefeated 1987 Syracuse football team, McPherson set 22 school records, led the nation in passing and won more than 18 national "player of the year" awards, including the Maxwell Award as the nation's best player, the Davey O'Brien National Quarterback Award and the inaugural Johnny Unitas Golden Arm Award. He was second in the Heisman Trophy voting. In 2008 McPherson was elected to the College Football Hall of Fame. In 2013 Syracuse University retired his #9 jersey.

Rebecca Milliman, MSW

Rebecca Milliman, MSW (she/her) is the is the Prevention and Education Manager at the Harborview Abuse & Trauma Center in Seattle, WA, where she has worked since 2008 to prevent sexual assault and help create safer communities. She is the author of "A Safer Family, A Safer World," a prevention resource for parents; the co-author of FLASH, a comprehensive sexual health curriculum; the co-founder of the Violence Prevention Coalition, and co-creator of the Team Up Washington initiative. She currently works with Seattle Public Schools to expand comprehensive sexual health education. In 2015, Rebecca co-created the Athletes As Leaders program, a prevention program for high school athletes. As a cisgender white woman, Rebecca has been intentional in her work to co-create programs and resources to help uplift the leadership of communities who have been disproportionately affected by sexual assault and violence.

Sarah Podber, MSW

Sarah joined the NYSCASA staff in 2016 as the special projects coordinator, later transitioning into the role of director of prevention. In her current position, Sarah serves as the project lead for NYSCASA'S Sexual Assault Demonstration Initiative (SADI) prevention cohort, as well as other prevention projects. Prior to joining NYSCASA, Sarah was an advocate at Disability Rights New York and the program and policy director at The League of Women Voters of New York State. She has a Bachelor of Arts in women's studies and a Master of Social Work from the State University of New York at Albany.

Monica Schell, MSW

Monica Schell, MSW (she/they) received her Bachelor of Arts Degree in Human Services at Western Washington University and her Master of Social Work at the University of Washington. Monica is a consultant for the Harborview Abuse & Trauma Center in Seattle, WA, where she works in sexual assault prevention and sexual health education. She has worked in sexual assault prevention since 2011 and has presented at the National Sexual Assault Conference, co-created a website called 100 Conversations, developed a violence prevention program plan at Western Washington University, worked as a therapist for survivors of domestic violence, created lessons for Seattle Public Schools on consent and sexual assault prevention, and is a co-author of Athletes As Leaders. Monica identifies as a woman, mixed-race (white/Black/Filipina), queer and fat. She uses these lenses/identities to create inclusive content for marginalized communities.