"An NIJ-funded study shows that American Indian and Alaska Native women and men suffer violence at alarmingly high rates."
- National Institute of Justice
Domestic violence and intimate partner violence occurs in all communities. However, various causes can affect the level, intensity, and prevalence of violence. Studies indicate that violence against women—including domestic abuse and sexual assault—is higher among Native American communities.
In all communities, it is possible to intervene in domestic violence situations early on, and even prevent them from happening in the first place. The New York State Coalition Against Domestic Violence (NYSCADV) aims to support and facilitate the path to domestic violence prevention. NYSCADV's Domestic Violence and Indigenous Peoples Project, funded through the New York State Office of Children and Family Services, provides training, listening sessions, and resources related to Indigenous Peoples for domestic violence service provider programs of New York State. This resource guide is a collection of research, best practices, articles, and resources for advocates and domestic violence survivors.
Indigenous Nations & Reservations in New York State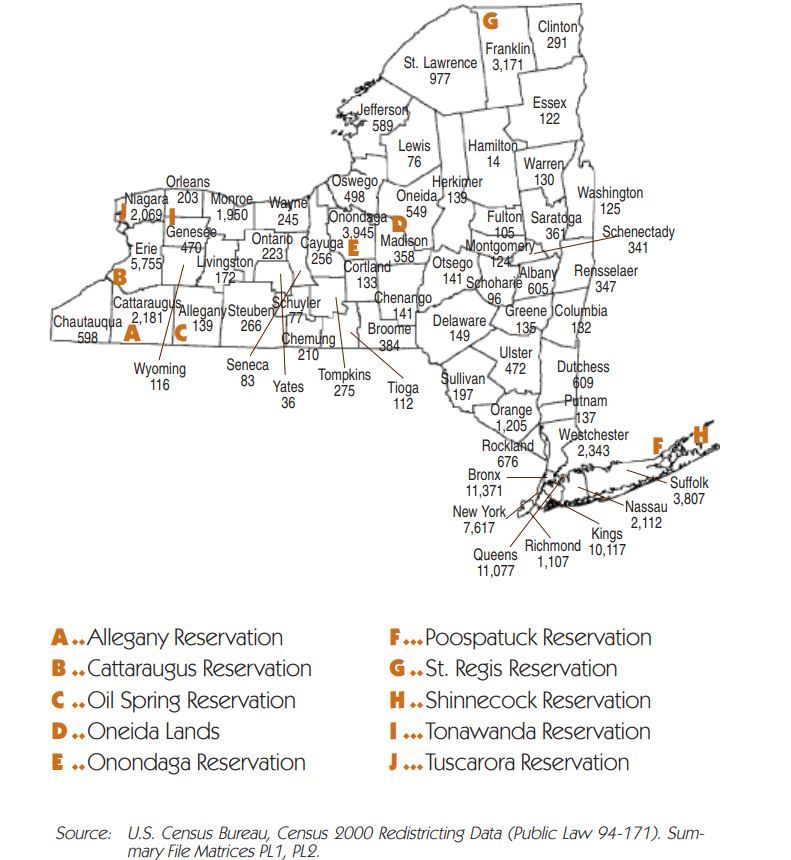 This part includes a listing of the recognized Indian tribes/ nations and reservations in New York State. [1]
IROQUOIS
Cayuga Nation of Indians
Cayuga Nation has no reservation.
Oneida Indian Nation
Oneida Nation Territory
Located in Oneida and Madison Counties - Comprised of 15,000 acres
Onondaga Nation
Onondaga Reservation
Located in Onondaga County – Comprised of 7,300 acres
St. Regis Mohawk Tribe
St. Regis Mohawk Reservation
Located in Franklin County – Comprised of 14,640 acres
Seneca Nation of Indians
- Allegany Reservation
Located in Cattaraugus County – Comprised of 22,640 acres
- Cattaraugus Reservation
Located in Erie, Cattaraugus and Chautauqua Counties – Comprised of 21,680 acres
- Oil Spring Reservation
Located in Allegany and Cattaraugus Counties – Comprised of 640 acres
Tonawanda Band of Senecas
Tonawanda Reservation
Located in Erie, Genesee and Niagara Counties – Comprised of 7,549 acres
Tuscarora Nation
Tuscarora Reservation
Located in Niagara County – Comprised of 5,700 acres
ALGONQUIAN
Shinnecock Tribe
Shinnecock Reservation
Located in Suffolk County – Comprised of 400 acres
Unkechauge Nation
Poospatuck Reservation
Located in Suffolk County – Comprised of 60 acres
[1] New York State Office of Children and Family Services (OCFS). "A Proud Heritage". P 62-64.
Violence Against American Indian And Alaska Native Women And Men: 2010 Findings From The National Intimate Partner And Sexual Violence Survey
Few estimates are available to describe the prevalence of violence experienced by American Indian (AI) and Alaska Native (AN) women and men. In addition, these estimates are often based on local rather than national samples. The few available national estimates are often based on very small samples. These small samples do not always accurately represent the AI and AN population in the United States. This study provides the first set of estimates from a national large-scale survey of victimization among self-identified AI and AN men and women on psychological aggression, coercive control and entrapment, physical violence, stalking, and sexual violence, using detailed behaviorally specific questions. These results are expected to raise awareness and understanding of violence experienced by AI and AN people. The webinar also will highlight the need for additional services that are needed for AI and AN victims of crime—a need that has been persistently noted but lacked the research to support efforts to increase resources or allocate them appropriately.
More than four in five American Indian and Alaska Native women and men have experienced violence in their lifetime, and more than one in three experienced violence in the past year, according to a new report from an NIJ-funded study. The study, part of NIJ's research program on violence against American Indian and Alaska Native women, looked at how prevalent psychological aggression and physical violence by intimate partners, stalking, and sexual violence were among American Indian and Alaska Native women and men. It also examined the perpetrators' race and the impact of the violence.
Creator and Cultural Wheel
The Cultural and Creator's wheels explain different forms of abuse that Native American victims experience in their relationships. Cultural abuse isolates the victims from the community and harms their emotions. Families are shaped by certain rules that in turn are driven by cultural beliefs. In light of the importance of culture and spirituality to Native Americans identities, cultural abuse can be severe disruptive to victims' well-being. In abusive situations, the perpetrators might belittle survivors' traditions, practices, and beliefs. Perpetrators might control survivors' interactions with other members of the community or prevent them from participating in ceremonies and gatherings. They may also force survivors to practice some traditions that they are not willing to do.
By examining the many ways society reinforces the use of power and control, those using the wheel can identify actions that might be taken on personal, cultural and institutional levels to end the tolerance of battering.
Creator Wheel

Cultural Wheel
Addressing Domestic Violence in Indian Country
Introductory Manual: Addressing Domestic Violence in Indian Country: In order to end domestic violence in all its forms, we must understand why it exists in Native communities today, and assess our current challenges in addressing the issue. When we examine the reasons behind the presence of domestic violence in Native communities, we must first consider its historical origins.
Domestic violence in Native society came about over the course of centuries of change. Examining the history of oppression that laid the groundwork for the rise of violence against Native women shows us that efforts to end the domestic violence faced by women across Indian Country today are still in their infancy.
With a talk that encourages hope, love, empowerment and igniting a new way of learning together as a nation, Tamara lays bare the world of violence impacting indigenous women. Personally connected to her topic through her great-grandmother, she has been speaking out about "Decolonization of Murdered and Missing Indigenous Women", giving a voice to the voiceless.

Dawn talks about residential schools and their impact on the people and their family's who were involved. She passionately makes a plea for a link between what residential school survivors experienced, and how their future healthcare needs have to match the impacts of that experience.

Indigenous artist Whisper Kish presents her Spoken Word piece A Call To Action at TEDx at Albuquerque, New Mexico in December of 2012. She challenges her audience to examine the shared history of North America that has led to an underlying acceptance of violence against women, particularly First Nations women.
This hotline and crisis center was created in March 2017 by support from the Administration on Children, Youth and Families, Family and Youth Services Bureau, U.S. Department of Health and Human Services and Verizon. StrongHearts is a culturally-appropriate, anonymous, confidential service dedicated to serving Native American survivors of domestic violence and concerned family members and friends. By dialing 1-844-7NATIVE (1-844-762-8483) Monday through Friday from 9 a.m. to 5:30 p.m. CST, callers can connect at no cost one-on-one with knowledgeable StrongHearts advocates who can provide lifesaving tools and immediate support to enable survivors to find safety and live lives free of abuse.
Mending the Sacred Hoop is a Native owned and operated non-profit 501(c) 3 organization that exists to address violence against Native women and works to end it. We organize on issues surrounding violence against American Indian/Alaska Native women in our home community of Duluth, MN and throughout the State of Minnesota. We also work with Tribes and Native communities nationally that are addressing the issues of domestic and sexual violence, dating violence, sex trafficking and stalking in their communities. We provide training to strengthen Tribal and Native community responses to these crimes, including the advocacy and systems responses, community understanding and awareness, engaging men in the work to end violence against women, and coordinating community responses that provide for women's safety and uphold offender accountability.

The National Indigenous Women's Resource Center, Inc. (NIWRC) is a Native nonprofit organization that was created specifically to serve as the National Indian Resource Center (NIRC) Addressing Domestic Violence and Safety for Indian Women. Under this grant project and in compliance with statutory requirements, the NIWRC will seek to enhance the capacity of American Indian and Alaska Native (Native) tribes, Native Hawaiians, and Tribal and Native Hawaiian organizations to respond to domestic violence. The NIWRC is dedicated to reclaiming the sovereignty of Native nations and safeguarding Native women and their children. Through public awareness and resource development, training and technical assistance, policy development, and research activities.
Services and Resources in New York State
VAWA Reauthorization and Orders of Protection
Orders of protection and Issues of Tribal Jurisdiction in Indian Country (StrongHearts Native Helpline):
There are many legal factors advocates consider when addressing domestic violence and sexual assault in Indian Country.
Many tribes face unparalleled obstacles when attempting to address the issues of domestic violence and sexual assault on their land, and Native American survivors of domestic violence, dating violence, and sexual assault often experience jurisdictional hurdles when they report or attempt to heal. Every tribe, federally recognized or not, faces a maze of legal systems and statutory frameworks that intersect, often leaving victims without a clear path to justice.
It is important to know that federally recognized tribes are sovereign nations in the United States, but as a result of a 1978 Supreme Court decision in the case of Oliphant v. Suquamish Indian Tribe, tribes were stripped of their authority to prosecute non-Native people (ex. individuals of other races) for on-reservation crimes.
Because tribes could not exercise criminal jurisdiction for several decades — the right to prosecute violent crimes committed in Indian Country by non-Native people — both state and federal authorities were expected to exercise jurisdiction in these cases.
However, state and federal authorities often declined to prosecute in the majority of these cases for different reasons. This situation left most tribes powerless to criminally punish non-Native people who came onto reservations and committed domestic or sexual violence against Native people. As a result, the prevalence of domestic violence, dating violence, and sexual assault in Indian Country grew astronomically.
In 2013, Congress reauthorized the Violence Against Women Act (VAWA), which restored tribal courts' ability to exercise "special domestic violence criminal jurisdiction" over domestic and dating violence crimes or violations of protection orders regardless of the defendant's Native or non-Native status, where the tribes meet certain requirements in accordance with the Indian Civil Rights Act per the U.S. Bill of Rights, the Tribal Law and Order Act, and where the tribe's criminal justice system fully protects defendants' rights under applicable federal law. [1]
The reauthorized VAWA went into effect in 2015 and recognizes tribes' sovereign power to investigate, prosecute, convict, and sentence both Indians and non-Indians who assault Indian spouses or dating partners or violate a protection order in Indian Country. It does not, however, cover sexual assault or rape committed by non-Natives who are strangers to their victims, nor does it protect Native American children who are victims of abuse or assault.
Tribal, state and federal jurisdiction issues remain at the forefront of legal advocacy for domestic violence advocates. Understanding the implications of laws such as Public Law 280, tribal courts and their authority as well as the federal government's role in prosecuting on-reservation violent crimes, is critical to legal advocacy for any Native American victim of domestic violence. Depending on your situation, you might determine that reporting abuse or taking legal action against an abusive partner is the best course for you.
This website is intended to serve as an online resource pertaining to drafting and enforcing tribal protection orders. Note that each tribe is unique with respect to tribal constitutions and codes. The reader should consult the specific tribal constitution and tribal codes for additional requirements regarding drafting and enforcement of tribal protection orders.